Skip to Content
Unique Designs: Custom Fireplace
As a remodeling company (and personally, as a designer), we often have very strong opinions about what homeowners put into their houses. Not always, but most of the time our clients are updating their homes with the goal of making them look different than what everyone else has. We love coming up with projects that fit into this category. I mean, what's the point in remodeling if your house still looks like your neighbors? This basement fireplace is a good example of standing out from the norm – and showing off what our carpenters can do to give you a huge (and very custom) wow factor.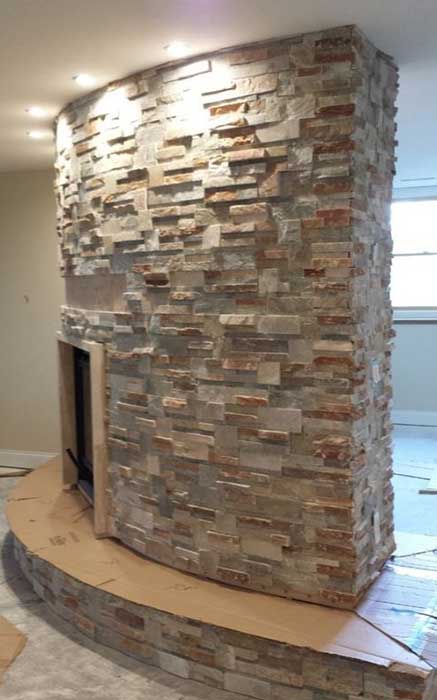 To make this basement remodel unique, we installed a massive, curved fireplace. DalTile Shanghai Rust stacked stone was used around both sides, to give the room a warm, rustic feel. The recessed puck lighting in the ceiling above the stone easily makes the fireplace stand out as the focal point of the space. In the center, a see-through Heat & Glo gas fireplace unit was installed, providing warmth in a seating area on either side. To bring everything together, the hearthstone is curved along with the stone. A cardboard template was made and brought to Madison Block & Stone to have our stone laser cut into that specific shape.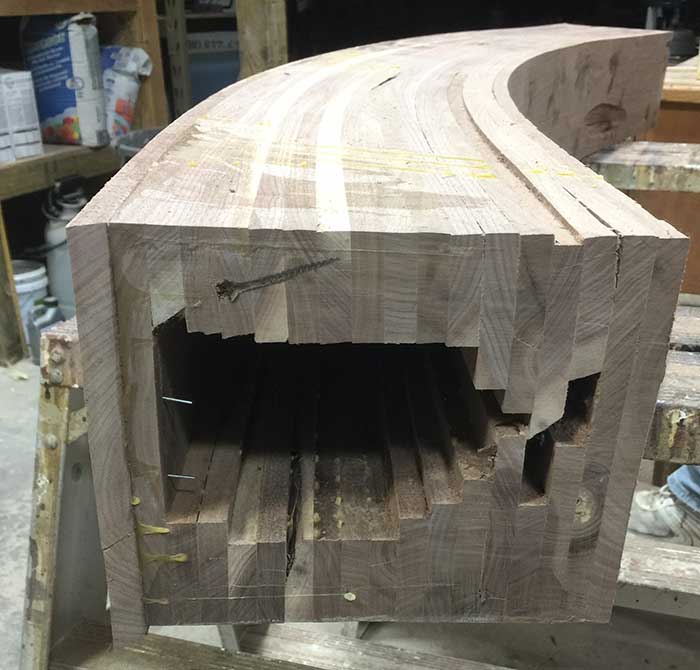 Another special feature of this fireplace is the mantel. It was made from a 200-year-old black walnut tree, taken from the homeowner's great grandfather's land. The pieces used to make it had to be cut from specific places in the log in order to be usable in this application. The strips of wood were bent to fit the curve of the fireplace, glued and screwed together then sanded to a smooth finish. As you can see, it took quite a while to assemble! The finished product was coated in a marine-grade clear finish to bring out the distinctive color variations only found in black walnut.
Our carpenters spent hours figuring out the exact curve of this wall, mantel, and hearthstone to make it perfect and it paid off in the end. The finished product is nothing like we've ever made before. Projects like these are always our favorite because we know we are doing something special for the homeowner.
If you have any unique project ideas or just something you know you want to incorporate into your remodel design, we can make it happen! Don't forget to check out our Houzz and Pinterest pages for more awesome design ideas like this one.
<!–>