Skip to Content
Transform Your Kitchen with Remodeling in Madison, WI
The kitchen is often considered the heart of the home and is a place families cook, eat, entertain, and relax. Interiors by JW specializes in kitchen remodeling services for homeowners in Sun Prairie and Madison, WI. A kitchen renovation can make your entire experience much more enjoyable as our kitchen remodeling company can make your space more beautiful and functional. If the layout of your existing kitchen makes it challenging to prepare a meal or entertain loved ones, it's time to consider redesigning your space. Our team of experts combines comfort, beauty, convenience, and technology in your kitchen. Your new kitchen will look great and be more functional, so you can enjoy it like you should be doing. Learn more about our kitchen remodels and get in touch with our kitchen remodeling contractors today to request a consultation.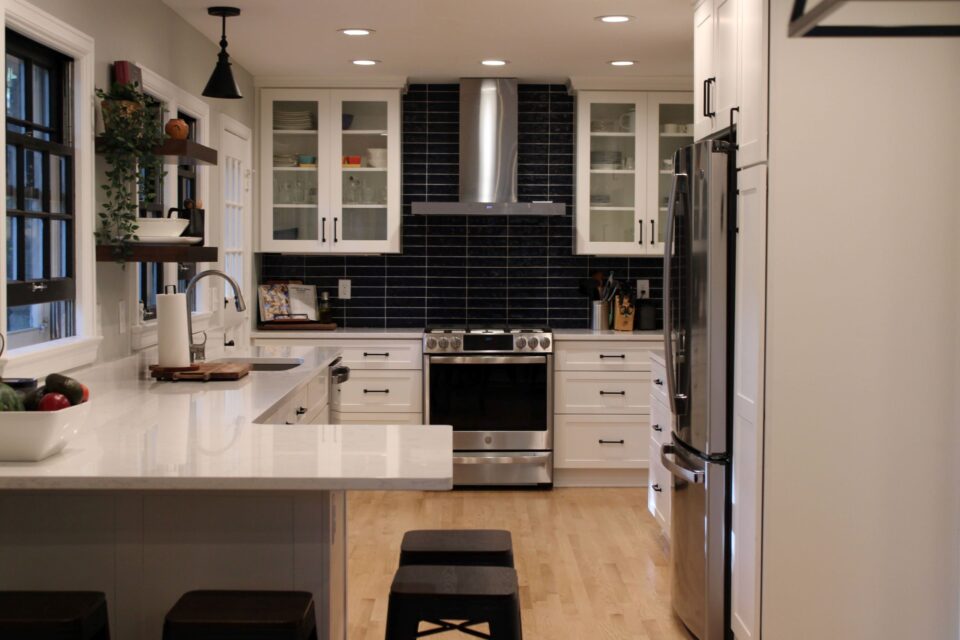 Local Remodelers With Vision & Expertise
The team at Interiors by JW is your partner in the entire kitchen remodeling process. We want you to make your own choices regarding your design elements and the style of your space. But that doesn't mean we aren't happy to offer guidance along the way, providing kitchen remodel ideas for homeowners in the Greater Madison area. Once you make your final decision about your kitchen home improvement project, we will combine your vision with our expertise, producing a unique and functional space to add value to your home. We offer complete kitchen overhauls or minor upgrades. Something as simple as updating your cabinets or changing out your countertops can give you the look and feel of a brand-new kitchen. No project is too big or small for our experts, who can start from scratch if you prefer to completely reimagine your kitchen.
We Complete Remodeling Projects on Time
At Interiors by JW, we want to help you make your dream kitchen a reality. We've performed many kitchen remodels over the years, working with all different types of ideas and budgets. We are here to help make your vision come to life, no matter the size or scope of your kitchen remodeling project. You will benefit from working with one of our designers on a project overseen by one of our meticulous project managers, who will ensure everything is done just the way you wanted it while ensuring our work stays on schedule and is completed on time.
The Benefits of Remodeling Your Kitchen
Homeowners in Wisconsin wouldn't be upgrading their kitchens if it didn't provide them with numerous benefits. Learn more about the benefits of working with Interiors by JW to remodel your kitchen:
More Functionality – Your new kitchen will have more space to prepare your meals. Our team can optimize your kitchen layout, installing new countertops, cooking appliances, task lighting, and more.
Increased Comfort – A kitchen remodel can increase your comfort with features such as new ventilation systems and windows that optimize airflow and provide natural lighting.
Improved Safety – New appliances such as range hoods can reduce toxic pollutants produced by stoves. Other safety features we can install in your kitchen include proper lighting, slip-resistant flooring, and storage space for a fire extinguisher.
More Storage – Allow our team to install storage space during your kitchen remodel, including custom drawer organizers, under-counter island cabinets, a pull-out under your sink, and more.
Better Energy Efficiency – Our kitchen remodeling experts can install energy-efficient LEDs to help you save money on energy and do your part for our environment. We can also upgrade your kitchen to low-flow faucets or a tankless hot water system.
Increased Utility Savings – Installing kitchen appliances that have an Energy Star rating can save you money on your monthly energy bills. Complete kitchen overhaul can also include insulation or double-glazed windows to reduce heating and cooling costs.
Higher Home Value – Prospective home buyers care about the quality of the kitchen, with nearly 70% of real estate agents reporting that a high-quality kitchen is the best selling point of a home. Homeowners will recoup an average of 60% of their kitchen remodeling costs when they sell their homes.
Updated Kitchen Style – Everyone wants a beautiful kitchen. Our remodelers can incorporate functional design elements, such as texture, color, and space, to create a kitchen you'll love.
Schedule Your Kitchen Consultation Today
Now that you know more about what we can do to transform your kitchen, it's time to get started. We would be happy to answer any questions you might have and provide you with a quote for your kitchen remodeling project. Contact us today to request a consultation.
Your Partner in Home Remodeling and Interior Design