Skip to Content
Mudroom and Laundry Room Remodeling
Update Your Home With a Laundry Room or Mudroom Makeover
Are you making the most out of all the space in your home with a beautiful and functional mudroom and laundry room? Interiors by JW is here to help you do just that, offering professional mudroom remodeling and laundry room renovation services for homeowners in the greater Madison, WI area. A mudroom is a great way to declutter and get organized. Everyone needs to do laundry, so having a well-thought-out laundry room can simplify the process. Mudrooms and laundry rooms are often overlooked during a home remodeling process, but a renovation of these rooms can make your life easier and boost property value. Our experts have plenty of mudroom ideas and laundry room ideas, so learn more and get in touch with us today to request a consultation.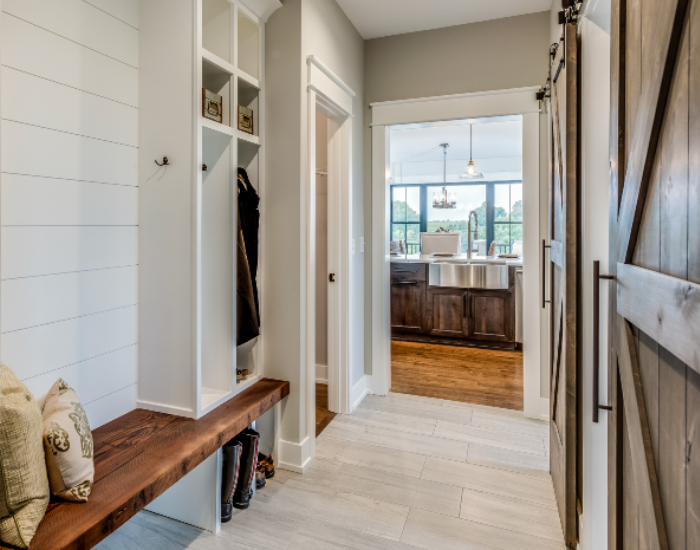 Get Organized With a Mudroom
A mudroom is a perfect place to kick off your shoes before you enter the main areas of your home. Mudrooms are also ideal for storing jackets and other items you need before you leave the house. Our experts can design this space with as much storage as you need. If you've never had one before, you might be asking yourself, "what is a mudroom?". A mudroom is a house's casual secondary entrance that provides a dedicated space to remove shoes, boots, coats, and more. Mudrooms are used to store umbrellas and other items you may need outside but do not want to take into the main areas of your home. Interiors by JW offers comprehensive mudroom services, including mudroom design and mudroom renovation. Check out the benefits of adding a mudroom to your home:
Minimizing Messes – Keeping your home clean is important. No one wants to track mud into your living room or other areas of your home. Mudrooms will help you avoid tracking mud through the house. You can also use a mudroom to wipe down your pets, so you don't end up with muddy pawprints everywhere.
Organizing Your Home – A mudroom helps organize your home, giving you a place to hang your jackets, kids' backpacks, and more. You can also use storage space in your mudroom for sports equipment and other items that are only used outdoors.
Customization Options – Our home remodeling can custom build your mudroom, giving you as much storage as you need. We can combine your mudroom with a laundry room, or you can keep the spaces separate.
Increased Home Value – Adding a mudroom to your home can boost your property value when it comes time to sell. You can enjoy the mudroom now and likely sell your house for more money in the future because it will be more desirable to prospective homebuyers.
Easy Addition – Mudrooms are one of the easiest additions to homes because they are small spaces. Areas near entry points can be converted to add a mudroom to your home.
Make the Most of Your Laundry Room
If you're like most homeowners in the Greater Madison area, your laundry room is far too cramped, making it challenging to fold clothes, maneuver, or even open up your front-loading washer or dryer. Interiors by JW can reconfigure your laundry room to give you plenty of space to complete this common household chore. Most people don't look forward to doing laundry, but you might once we make over the space with our laundry room design and laundry room remodeling services for homeowners in Wisconsin. We can customize your laundry room in a variety of ways based on your preferences and budget.
Get Started on Your New Mudroom or Laundry Room Today
Now that you know more about mudrooms and laundry rooms and how you can benefit from remodeling these spaces, it's time to get started thinking about your dream laundry room and mudroom. The team at Interiors by JW can help by giving you some amazing design ideas that we can make a reality in your home. Our experienced home renovations team is ready to remodel your kitchen, bathroom, and more. Contact us today to request a consultation.
Your Partner in Home Remodeling and Interior Design