Skip to Content
Transform Your Basement to Make the Most of Your Space
If your basement is sitting empty, you are missing out on more space in your home that you could be using for a variety of purposes. Interiors by JW is a professional basement remodeling company offering finished basements and basement remodeling services for homeowners in the Madison, WI area. Finishing your basement is an excellent way to add value to your home and will give you another room to enjoy. Our experts have plenty of basement ideas to help you envision your new room. From there, we will make your dream basement a reality when we finish your basement with our basement remodeling services.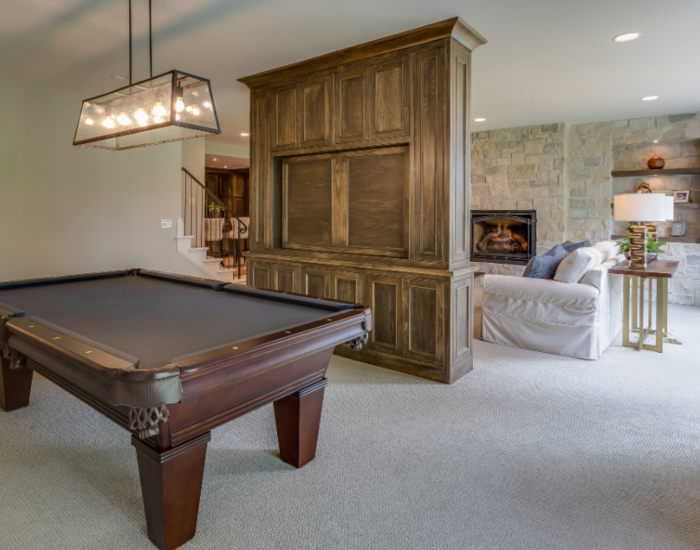 Comprehensive Basement Remodeling Services for Homeowners
Your basement doesn't have to be a waste of space. Our professionals have plenty of finished basement ideas for your home in the Greater Madison area. Your family will love their extra living space and valuable square footage. A dark, cold, unfinished basement is not where you want to spend your time, but with all your basement options, you might end up spending a lot of time down there. You may think of a basement remodel as a headache, but our experts have the process down to a science. Basement remodeling is much more affordable than adding a new room to your home. Our team values safety and cleanliness, along with professionalism and customer service. Learn about some of your options for remodeling your basement:
Home office
Family room
Movie theater
Game room
Home gym
Bar or entertaining space
Rentable room (Airbnb)
Kids' playroom
And more
Learn About Our Basement Remodeling Process
Interiors by JW specializes in basement remodeling services and wants to help you understand the steps involved in the basement remodeling process. Feel free to contact us if you have any questions.
Initial Consultation – During the initial interview, you will work with our project consultant, and both parties will determine if the pairing is the right fit.
Design Agreement – Our project consultant will present you with your design agreement based on your initial meeting.
Plans & Selection – Our design team will work with you to create the perfect basement for your family to enjoy.
Onsite Meeting – The final budget, scope, selections, and drawing will be reviewed, revised if necessary, and approved.
Project Delivery – After your construction contract has been signed, it's time for us to get to work and deliver your dream basement.
Get Your Basement Remodeling Estimate Today
If you're ready to discuss the potential that your basement offers, we're ready to get started on helping you make the most of your unused space. Imagine how much enjoyment you could get out of a second living room or how much income you could make off a guest suite. You could be more productive with a home office or gym or give the kids the thrill of a lifetime with a playroom. Interiors by JW wants to be your partner in home remodeling and interior design. Contact us today to request a consultation.
Your Partner in Home Remodeling and Interior Design